Podcast: Play in new window | Download (Duration: 48:00 — 16.7MB)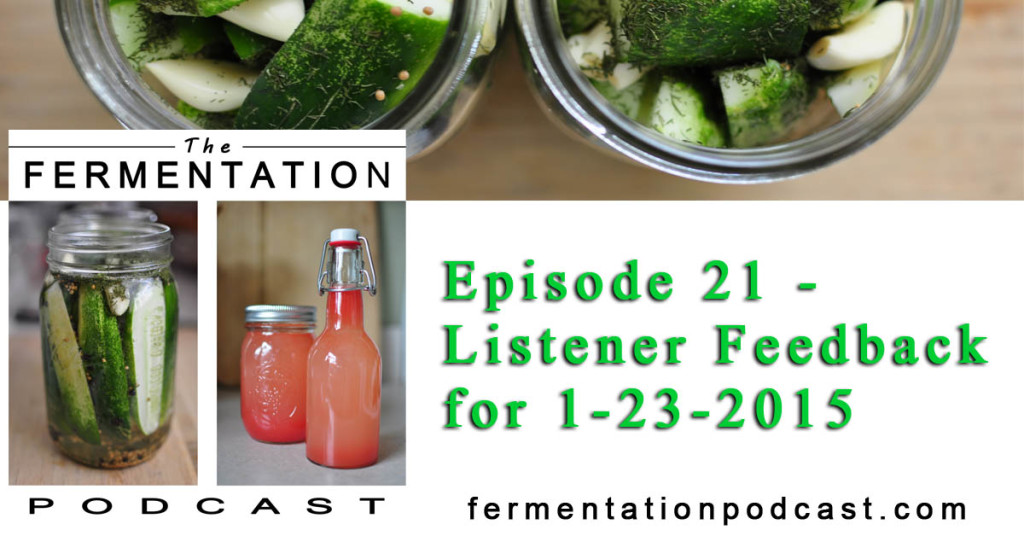 Today is all about you, yes you! It's the listener feedback show with comments, questions, and just feedback from you, the audience on several different topics in fermentation.
I enjoy getting emails and comments from all of you and I always reply one by one, but since this is a community, it's nice to spread the knowledge and get feedback and combine ideas between everyone. I think you'll enjoy today's show.
TOPICS INCLUDED IN TODAY'S FERMENTATION PODCAST:
An update on my sourdough starter that Jane Campbell sent me of Fermenters Kitchen
What do you do with ferments once you've made them and what are some creative ways to incorporate these into other foods?
The idea of dehydrating ferments as a way to rescue them from going mushy
Does cooking kill the probiotic content and life of the ferments that we make?
What does "culture starter" mean when found in recipes?
Someone using fermented chicken feed & making sourdough starter
Chlorine in city water vs well water and what to do to get chlorine out of your tap water
Ideas for using pickle salt
A very kind compliment on the podcast and my thoughts on podcasting in general
A question about accessing the recipes on this site and whether I'll be taking them down in the future
A reminder from the podcast I did on fermented sodas about making up an actual post and how to on making ginger bug and making ginger ale
How long should I leave my onions fermenting on the counter before putting it in the refrigerator?
A technical question about downloading the show and subscribing
One listener's new start to fermenting pickles in a ceramic crock
Another listener starting to ferment garlic in honey and also some interesting comments on bone broth, a question of whether you can be vegan and have bone broth, and some history on Lewis & Clark and what that has to do with bone broth
RECIPES MENTIONED IN TODAY'S SHOW:
LINKS FOR TODAY'S SHOW:
I'd love to hear your thoughts on today's show so be sure to comment below or if you have an idea for the show, email me at paul at fermentationpodcast.com or just click on the Contact button on top of this page and fill out the form. I look forward to hearing from you!