Podcast: Play in new window | Download (Duration: 44:24 — 15.4MB)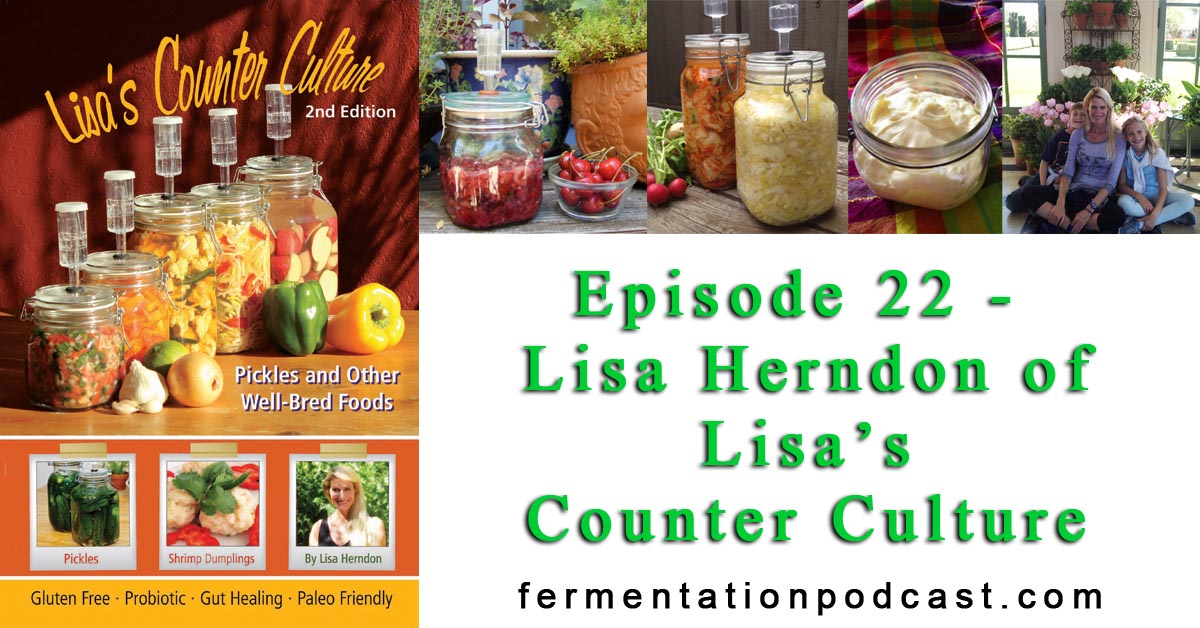 Today on the show I welcome Lisa Herndon of Lisa's Counter Culture. She loves fermented foods and her goal is to get people healthy using food as the main driver in her holistic approach to health and well being.
Her tagline on her website is "Whole Food, Add a Twist of Probiotics, Gluten Gone". She would describe herself as belonging somewhere in the paleo / primal diet arena but really her focus is on whole, real foods that promote health while trying to limit health robbing foods and you can see that with her tenet being "be mindful and eat real food."
She says she can go on for hours on fermentation recipes, ideas, and topics and she teaches workshops to get people started in the San Francisco Bay area. I received a copy of her book "Lisa's Counter Culture, 2nd Edition" and it doesn't disappoint with a wide variety of recipes and techniques. I would describe her fermentation philosophy is as clean as possible with her use of The Probiotic Jar and while I venture out of that philosophy quite regularly, we could all learn a thing or two from Lisa.
I hope you enjoy today's episode. Happy fermenting!
TOPICS INCLUDED IN TODAY'S FERMENTATION PODCAST:
How long has Lisa been fermenting
Lisa's food philosophy being paleo and real, whole foods and what she leaves out that doesn't seem to work well with her body being alcohol, gluten, and soy
Fermenting grains like rice and legumes like lentils together into a batter to make an Indian fermented dosa which is a thin crepe-like pancake that you can then stuff other sides inside
Lisa's preferred methods to ferment things being The Probiotic Jar and the reasoning behind her choice including some people not tolerating ferments without an anaerobic fermenter and also the taste difference
Her thoughts on the differences between anaerobic fermentation jars vs. ceramic crocks and mold
How long she keeps her ferments around after fermenting and how long do ferments last when properly stored
What one of Lisa's fermentation workshops covers such as making fermented dosas, chutneys, among several other things like kombucha and kefir, and what she tells people fermenting for the first time
She talks about some of the stranger or less common ferments that she's made such as brussel sprout kimchi, celery cucumber apple kombucha, or any other interesting flavor combinations she can come up with like using golden beets rather than red beets for a unique flavor
The size of her ferments varies according to how much she wants rather than other people's methods like when Sandor Katz will make a 50 gallon barrel of pickled radish
We go through Lisa's book "Lisa's Counter Culture, 2nd Edition"
She talks about her favorite fermented beverages and how she doesn't stick to one single beverage and rotates through them seasonally and also at the same time likes to use fermented brines like sauerkraut brine as a drink
Some nice uses for pickle juice or fermented brine like making salad dressing and even making pickle juice popsicles!
When freezing ferments, how you might lose about 10% of the probiotics
Fermenting things in the winter having its own challenges and some of the tips and tricks to overcome that such as heat mats like seedling mats or hot water bottles in a cooler
The easiness of making mesophilic yogurt which is a "cold" yogurt that you can make at room temperature rather than having to keep a sustained heat of 105 to 110 degrees
One ferment that is a daily part of her family's diet is dairy kefir and a bit about using raw milk
Lisa says fermenting roots and tubers like potatoes & sweet potatoes reduces or eliminates acrylamide which is normally created when frying starches or heating them to high temperatures
She goes into the process of heating starches, cooling them, and either heating them again or eating them cold to form a resistant starch which she says makes it easier for some people to have starches
Fermenting salsas and chutneys for short periods of time since they are fruits and fruits have a higher sugar content so you should see some good bubbling activity
Lisa's thoughts on ferments and the health benefits she's seen in herself and people that she tries to help regain their health
How her kids actually don't crave sugar as much as the average kids would and prefer the more sour or tangy flavors of ferments and what are some great ferments for kids
How she lives an alcohol-free live since those are some ferments that don't seem to add value or make her feel great
She goes into her method of showing people's lab results and how food choices can affect that and goes into the vegan/vegetarian lifestyle
She talks a bit about how people are different and even in different parts of their lives, their tastes can change such as she always hated eggplant and getting pregnant gave her a taste for it
What her friends and family thinks about this fermentation stuff and people she meets at workshops
Lisa talks about future endeavors in writing a possible ebook in pressure cooking or a small update to Lisa's Counter Culture
She mentions that she writes articles for Paleo magazine pretty regularly so if you happen to get an issue, you might see an article in there from her
Her future ferments seem to be similar to others where she'd like to try fermenting fish and I mention a podcast where I had Ariana Mullins on about making fermented fish sauce and ginamos
Lisa gives some parting thoughts for beginners in fermentation and also her thoughts on pink Himalayan sea salt as well as Celtic sea salt and the differences she sees
RECIPES MENTIONED IN TODAY'S SHOW:
LINKS FOR TODAY'S SHOW:
I'd love to hear your thoughts on today's show so be sure to comment below or if you have an idea for the show, email me at paul at fermentationpodcast.com or just click on the Contact button on top of this page and fill out the form. I look forward to hearing from you!