The Fermentation Podcast is a weekly podcast (with daily-ish blog updates) that focuses on everything having to do with fermentation and "creating culture" including building a community of people that enjoy this lost art.
I think home fermenting has largely been forgotten in the minds of the mainstream population due to:
technology (refrigeration & canning)
convenience (just in time inventory system of packaged, nutrient & life-deficient refined products)
and government interference (safety)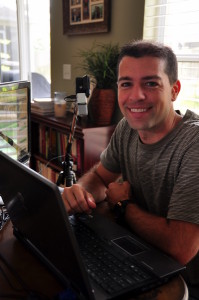 A new revival of old-world skills needs to take place to bring fermentation back to its former status.
I do not claim to be an expert on any of these topics, but a continual student learning about the natural world. I invite you to join me on this journey of understanding the microbiological world of bacteria, yeast, fungi, the processes & interconnections they share, and the mysteries that we have yet to discover.
Everything I put forth on this website is my opinion alone and should not be taken as the definitive resource, personal advice, or the replacement of common sense and personal responsibility. (See my Legal Disclaimers & Policies)
Fermentation is an arrow in the quiver of personal liberty that has the power to build confidence into the lives of people who have relied on the systems of government and corporations to take care of them for too long. Once a person begins to realize we can do things for ourselves and create amazing flavors and aromas that have long since been forgotten, I believe little changes like this could change the world at least at a personal level.
The topics in fermentation are many and include a wide variety of areas including study of:
Understanding the microbial world
Techniques of preservation
Basic Equipment
Vegetable ferments (pickling naturally)
Fruit ferments
Fermented beverages
Fermented grains
Fermented legumes
Dangers of fermentation
Fermentation in human history
Permaculture
Gardening (fermentation starts with something to ferment!)
And probably several more that I have yet to discover, but I'm willing to find out! Thank you for your interest in this amazing topic of fermentation and I look forward to see what this journey will bring.
I am thankful for the pioneers that have brought this knowledge into my life and the inspiration to build a community around it. Some of those include Jack Spirko of The Survival Podcast whose brilliant mind and infinite amount of guests on so many different topics got me started on this journey.  I also want to thank Sandor Ellix Katz for his amazing book The Art of Fermentation and his tireless devotion to the techniques of the world and history of fermentation. And lastly, on the permaculture side, Geoff Lawton, whose Permaculture teachings have spanned the world and has shown me how the natural world works as well as the inspiration to build community.
The are many others out there to list but these three are the ones that initially made the most influence on my personal life in the world of fermentation and building community.