Podcast: Play in new window | Download (Duration: 34:33 — 12.0MB)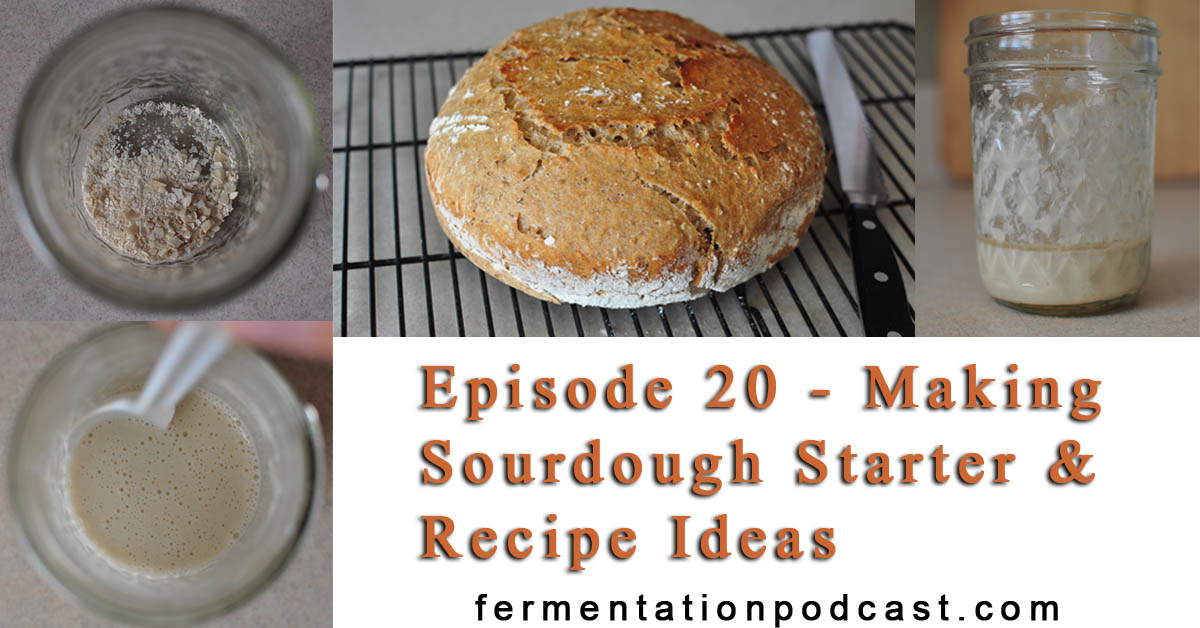 Today I go over how to make a sourdough starter, sourdough bread, sourdough recipes, and general tips and tricks in helping you along in your sourdough adventure.
At the beginning of the year I talked about some resolutions I'd like to go through this year and one was to get more into making sourdough bread. Little would you realize how sourdough starter leads you to making all kinds of other wonderful recipes that you might not have suspected to begin with like sourdough pancakes, biscuits, dumplings, even sourdough donuts, and many of the other tasty things that I go over in today's show.
I hope you enjoy this episode as I have in putting it together.
TOPICS INCLUDED IN TODAY'S FERMENTATION PODCAST:
What is sourdough and why is it called that?
What is the science behind how sourdough works and which microorganisms are involved?
What's the difference between sourdough and a commercial yeast?
How to make a sourdough starter from wild yeast using 3 different techniques
How to make a sourdough starter from a starter you either bought or got from a friend that's dehydrated
Ratios of using your sourdough starter in bread recipes
Instead of getting rid of your "throw away" starter that you end up with so often I go over sourdough recipes including:

Sourdough bread & rolls
Sourdough biscuits
Sourdough cornbread
Sourdough dumplings including a childhood memory of my grandma
Sourdough pretzels
Sourdough tortillas
Sourdough crackers

And some amazing dessert ideas to use your sourdough starter including:

Cake
Cinnamon rolls
Muffins
Pie crust
Sourdough donuts!

Other uses for your sourdough starter
Finally some tips and techniques to help you along with your sour dough starter
RECIPES MENTIONED IN TODAY'S SHOW:
LINKS FOR TODAY'S SHOW:
I'd love to hear your thoughts on today's show so be sure to comment below or if you have an idea for the show, email me at paul at fermentationpodcast.com or just click on the Contact button on top of this page and fill out the form. I look forward to hearing from you!