Podcast: Play in new window | Download (Duration: 40:23 — 14.0MB)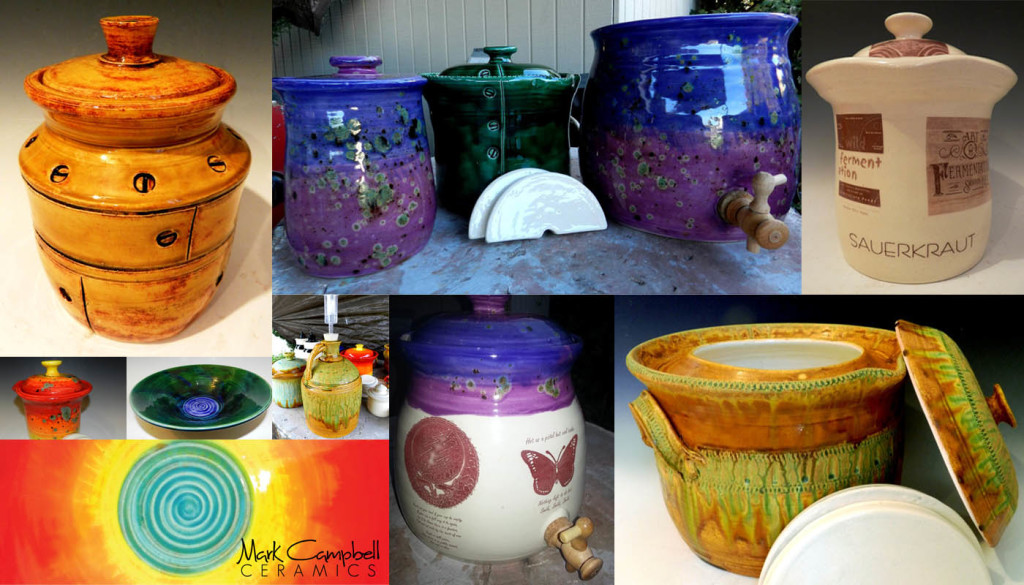 Mark Campbell who specializes in making artistic and unique ceramics joins us today to talk about his incredible fermentation crocks, fermentation pots, and vessels of all shapes and sizes and how he got involved in providing the fermentation community some of the most beautiful ceramics for making sauerkraut, pickles, kombucha, sourdough, and several other things.
He's been making ceramics since he was in elementary school and in the past few years started making the fermentation crocks special order for people who began noticing the high quality and craftsmanship of his work.
Mark has a background in art and has also worked in the food industry for 27 years, but had a yearning to get back into pottery so for him it just seemed the perfect fit to combine his love for food with his passion of ceramic making. His favorite artist is Vincent van Gogh and if you look closely, you should see influences of "Starry Night" in some of his work.
As a side note in fermentation fame, Mark custom-made the the sauerkraut crock at the top right just for Sandor Katz, himself.
Be sure to scroll down to check out a video of him making a fermentation crock as well as a special recipe he wanted me to include for you for his Taco Kraut.
**UPDATE** – The day after this interview came out, Mark put in his notice that he is leaving his food industry job and has decided to go full-time as a ceramic maker. I wish him the best and I know he'll do great! I think I see quite a few sales in his future and can't wait to see what else he comes up with.
TOPICS INCLUDED IN TODAY'S FERMENTATION PODCAST:
Mark's background as starting off with a fishery major and moving into getting an art teaching degree specializing in ceramics
His journey in the food industry, discovering his passion for pottery and ceramics again, and why he started making fermentation crocks
The process of making a fermentation crock, the weights, and the challenges that you face when creating a complex ceramic like water moat fermentation crocks (see his video in the links below)
Some of the amazing designs that he thinks up including one of my favorites – the sheet metal design
A comparison of the Harsch-style crocks to Mark's crocks and what that lip on the water moat does to make it more user friendly
How making fermentation crocks got him into fermenting the great flavors of sauerkraut, pickles, and apple cider vinegar
His background in the food industry is always making him look at food in unique and different ways to come up with interesting flavor combinations now using ingredients from fermentation
How he makes apple cider vinegar using pasteurized apple cider, one of his carboys, and champagne yeast taking only 10 days
Possible ways to keep pickles crunchy while they're fermenting using grape leaves, oak leaves, blackberry leaves, raspberry leaves, or possibly loose leaf tea
The health benefits Mark sees from taking 1 tablespoon of apple cider vinegar relieving him of heartburn
We talk about the several tasty variations of sauerkraut that Mark makes including the first one that's similar to a Salvadorian curtido:

Tex-Mex Taco Kraut – cumin, sun-dried chipotle peppers, lemon juice, fresh oregano, fresh cilantro (recipe & picture below)
Pizza Kraut – jalapenos or seranos, garlic, fresh oregano, fresh thyme,

Mark's successes using the air-lock fermentation crock method to ferment and keeping the air-lock closed for weeks to avoid possible mold and keeping the brine above what you're fermenting
Mark's suggestions coming from the food industry for if you get mold is "when in doubt, throw it out", but a little mold could probably be removed but kahm yeast is no problem
Mark's suggestion for the best way he's found to remove a large amount of mold from a fermentation crock to sterilize the crock and it's not using bleach but instead vinegar and soapy water and for the weights, the same but including your oven
He talks a little about how his weights are glazed so no mold would penetrate and would wash off and the difference between unglazed
He brings up the fermentation festival he attended and how he learned from the Koreans just how not strict you can be and how there's such a huge amount of variation to fermentation methods
The Korean culture amazes him in the way that kimchi is almost always part of their dinner and if it's not there, it doesn't feel like a complete dinner
He talks about the glaze that he uses for his crocks and how safe they are
The difference between the spouts kombucha crocks and which works better in terms of wood vs. plastic vs. stainless steel (his wood spigot is cork & bamboo)
Some talk about some of his other creations including the sourdough crock and his carboys
Thoughts on getting started making pottery in your local community
His family's reaction to his fermentation habits
What happens to his "seconds" or the fermentation crocks that have chips or are second-hand
Mark's suggestions and thoughts for someone just getting into fermentation
LINKS FOR TODAY'S SHOW: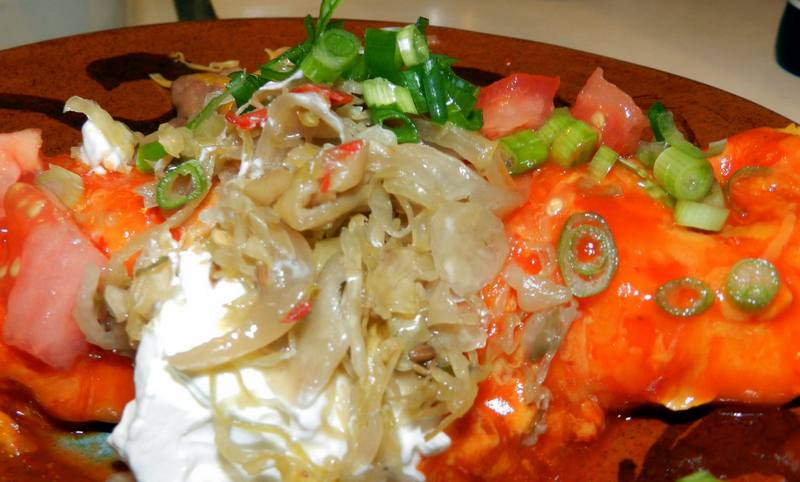 Mark Campbell's Taco Kraut Recipe
Makes 2 quarts
Mark Campbell had me add this recipe because he wanted you to have what he considers to be the best flavorful sauerkraut to put on fish tacos, prawn tacos, or anything Mexican. He says it resembles a Salvadorian curtido which is a lightly fermented cabbage relish that is usually made of cabbage, onions, carrots, and lime juice and served with pupusas (a thick handmade corn tortilla).
Ingredients:
2 medium heads of cabbage
1 medium onion
5 bulbs garlic, peeled
1 T cumin seeds
2 T sun-dried chipotle peppers, sliced
2 lemons
1 T fresh oregano (leaves and stems, no need to cut it up)
Salt
1 tsp coriander seeds (really optional, depends if you like that flavor)
In a large mixing bowl or stockpot I put in a layer of sliced cabbage and salt to taste. (It should be on the salty side. Many people weight their salt and cabbage. I always cook not measuring anything so I do it on the fly so to speak. You want your cabbage to taste salty but not overwhelming.) I then add another layer of cabbage and mix in salt to taste. It usually takes me 3 layers of cabbage to salt to finish up the cabbage.
I then let it sit for an hour to sweat. (That makes it a whole lot easier to get the liquid needed from the cabbage for a good brine.) I then make a fist and push down on the cabbage and massage it with my hand to get the liquid out.
I line the bottom of my crock with all of the other ingredients listed. Then put in the cabbage and brine. Add my weights and make sure there is at least 1/4 inch of brine covering the weights. If for whatever reason you did not make enough brine from the cabbage I add enough water (1 T salt to pint of water) to insure the weights are covered.
Ferment for 21-28 days and it's done. I like to mix fresh cilantro before serving it with tacos. If you try it, please let me know what you think, I would love to hear!
I'd love to hear your thoughts on today's show so be sure to comment below or if you have an idea for the show, email me at paul at fermentationpodcast.com or just click on the Contact button on top of this page and fill out the form. I look forward to hearing from you!