Podcast: Play in new window | Download (Duration: 28:44 — 10.0MB)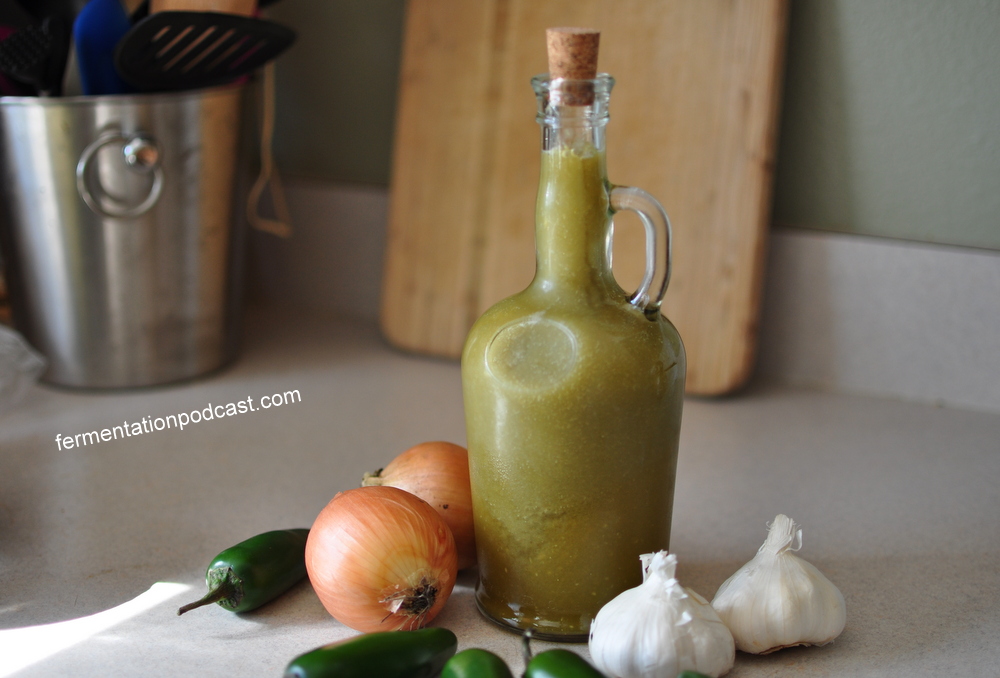 Imagine making your own homemade fermented hot sauce with an explosion of flavor. In this episode I take you through how to make homemade hot sauce the old fashioned way without cooking and vinegar but with a salt brine.
I've been making this hot sauce for years now and use it so much I actually have been putting it in wine bottles so that I never run out. There are so many different variations that you can do to this recipe that it should blow your mind!  For the entire recipe listed out see the previous post, Fermented Jalapeno Hot Sauce Recipe.
I hope you enjoy this episode as much as I enjoy hot sauce and also want to wish everyone a Happy Halloween!
TOPICS INCLUDED IN TODAY'S FERMENTATION PODCAST:
I start off talking about hot sauce and pretend to be a hot sauce sommelier by doing a live smelling and tasting of this spicy Jalapeno hot sauce recipe on the air and nearly lose my voice
Some ideas on where to use this homemade hot sauce and possibly give it as a gift
Ideas for different types of peppers and veggies that could contribute to your base hot sauce recipe like jalapenos, habaneros, pablanos, sweet peppers, and even veggies like carrots to extend the hot sauce and make it not so hot
When making hot sauce, a tip on separating batches into pickled peppers and reserving some to make hot sauce
Straining your pickled pepper mixture with sieves or nut milk bags
Making your hot sauce more interesting with several additions you can put in like different sweeteners like sugar or honey, sweet fruit like mango or pineapple, fresh herbs, getting citrus flavor from lemon or lime rinds, a smoky flavor with liquid smoke or roasting your peppers to make chipotle peppersh
Looking for more flavor inspiration by looking to popular brands of hot sauce like Tabasco or small hot sauce companies to see what they're using for interesting flavors
Tips when making this hot sauce and precautions like: Wear gloves when chopping these peppers!
LINKS FOR TODAY'S SHOW:
I'd love to hear your thoughts on today's show so be sure to comment below or if you have an idea for the show, email me at paul at fermentationpodcast.com or just click on the Contact button on top of this page and fill out the form. I look forward to hearing from you!