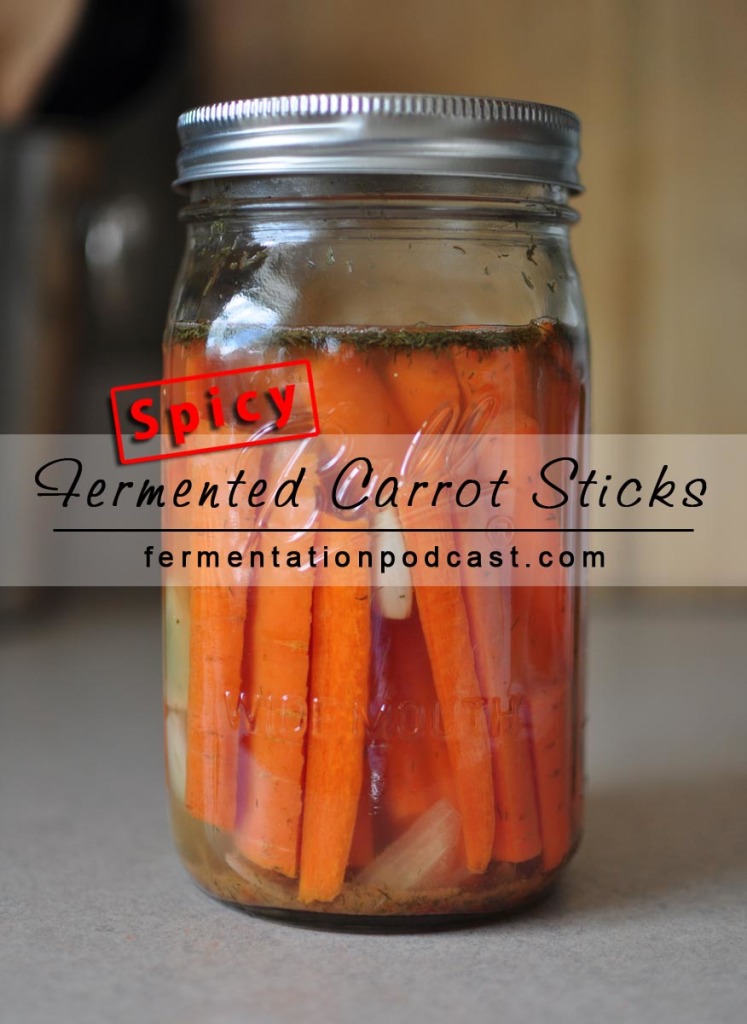 Can you ferment carrots? Of course you can! I've seen several recipes for fermented carrots and finally decided to try it.
I wasn't sure exactly what to expect when these would be finished but I can tell you it's worth trying if you like pickles. I like spicy and I also like dill so I figured I'd try out Pickle Me Too's Spicy Dilly Carrot Sticks and altered it just slightly.
The result is a great tangy, spicy, and also garlicy brine that lends a wonderful flavor to crispy carrots sticks. Since you're not cooking these carrots, the texture remains fairly firm and still has that lovely crunch of a what you'd expect from lacto-fermented carrots. Even the sweetness of the carrot is still slightly there which works well with all the other flavors of tangy and salty.
I had actually made these for Thanksgiving, but then realized that these could be served at any holiday gathering or even at dinner.
I wouldn't be surprised if you keep these pickled carrots around to just snack on when you want something that has a nice garlic bite to it to go along with the crunchy carrot flavor.
I hope you enjoy!
Spicy Fermented Carrot Sticks Recipe
Makes 1 quart jar
These spicy pickled carrot sticks make a great snack and are an interesting appetizer to add to a table before a meal.
Equipment
1 quart mason jar, wide-mouth, cleaned
1 half pint mason jar, cleaned (jelly jar for weight)
Plate (for overflow)
Ingredients
Carrots, sliced into sticks, enough to fill mason jar
4 garlic cloves, smashed
A few small slices of onion
1 tsp crushed red pepper or a few slices of hot peppers
1 tsp. dill, dried OR 2 tsp. dill, fresh (optional)
Non-chlorinated water, enough to fill jar when packed
Sea salt, to taste (I use 1 T. for a 1 quart mason jar)
Wash and slice carrots into sticks and fill jar tightly leaving a small amount of space for garlic and onion.
Put the mason jar on the plate in case of overflow.
Put remaining ingredients in jar, shake or move ingredients to fill the crevices.
Mix the water and sea salt, pour enough into the jar to cover, and leave a 1/2 inch to 1 inch gap at the top.
Insert small mason jar into the mouth of the large one enough to submerge ingredients in the larger jar below the water line. Pour more water into the side if more water is needed. If the small jar floats, fill with water to weigh it down.
Leave on the counter to ferment anywhere from 3 days to 2 weeks or more. The temperature in my house is usually about 72 degrees F, but for this recipe I like the carrots nice and fermented so a week or more is great for me. Try a carrot stick occasionally to see what level of tanginess you enjoy.
Once fermentation is to your liking, put in the fridge or a cool root cellar where it should keep for a long time.