Podcast: Play in new window | Download (Duration: 31:40 — 11.1MB)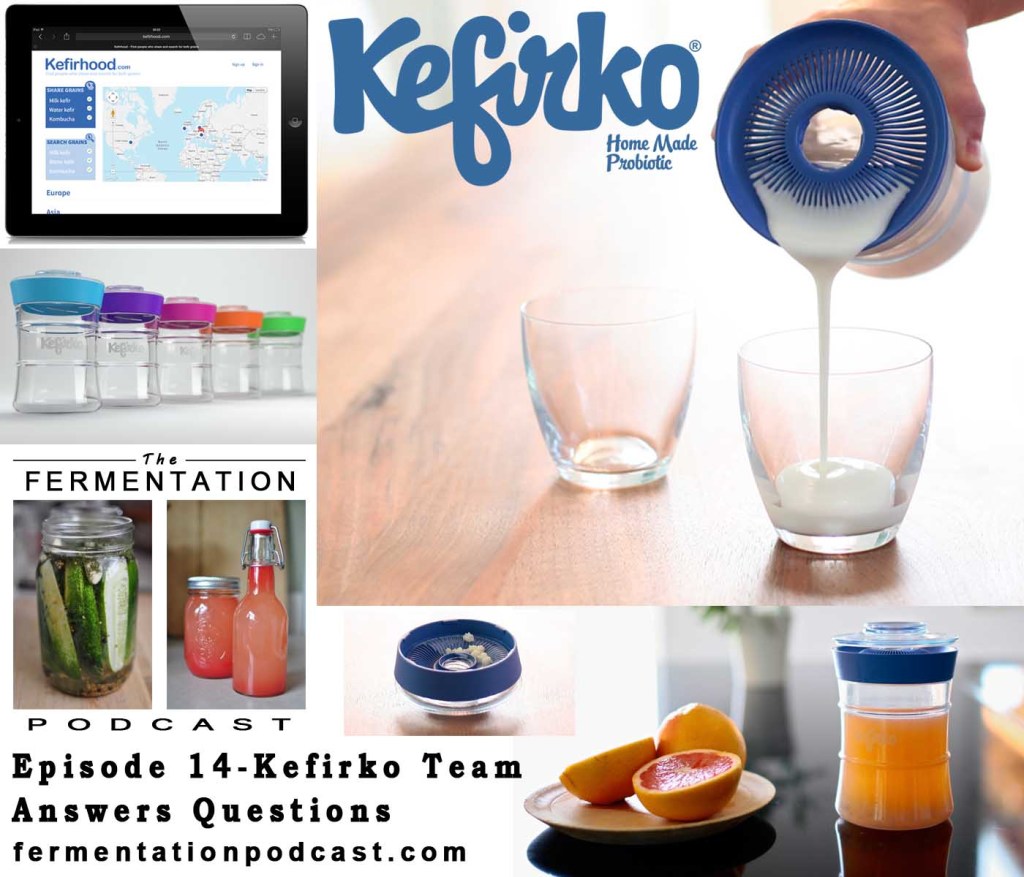 For today's show, I have on the Kefirko team made up of Marko Borko, Andrej Glažar, and Niko Klanšek who created the Kefirko and currently has a Kickstarter running to get their product out into the market.
The Kefirko helps making milk kefir and water kefir much easier without so much mess. Yes, you can make kefir the old-fashioned way, which involves strainers, jars, etc. or you can support a few people who are trying to make a better life for themselves and are also expanding the offerings of fermentation-related products out there for us.
Their Kickstarter is well on their way to being funded and if you end up backing them, you'll get your own Kefirko in the mail worldwide by May 2015.
TOPICS INCLUDED IN TODAY'S FERMENTATION PODCAST:
The creators of the Kefirko tell us what is kefir?
What the difference is between milk kefir and water kefir and what they taste like
Whether they like to use regular store-bought milk or raw milk
They go over a tip of making milk kefir but with non-dairy milk like coconut milk since it's full-fat like dairy milk normally is so then you come out with a coconut milk kefir
What gave them the idea to come up with the Kefirko, who started off making kefir first, and some of the product development including the animation in the Kickstarter
How often they're making kefir
Can you make kombucha in your Kefirko?
If you don't have grains, they've set up Kefirhood which is a website that connects people that have kefir grains and kombucha scobies to share
If you get kefir grains in the mail, can you store them before using them and how do you store them?
What the normal process looks like on how to make kefir without a Kefirko
What is the Kefirko made of, which parts are glass, and which parts are plastic?
Describing what the Kefirko looks like and it's function
Is the Kefirko air-tight?
When straining the Kefir grains through the strainer, will it catch some of the smallest kefir grains and how gravity affects particle sizes?
Since you can unscrew the top slightly to keep air-flow, could there be a problem with fruit flies and how can you alleviate that?
What is the size of the Kefirko and how many servings does the team make for themselves a day?
Since this first version is a test of the market to see if people are interested, are they going to be following up with larger versions of the Kefirko?
Will the Kefirko team think about making a lid compatible with a mason jar in the future and what are the challenges and drawbacks of that?
Since the Kefirko team is in Slovenia (southern central Europe), where all in the world are they shipping to? Which they replied that they're shipping worldwide.
If this Kickstarter is successful, are they planning on expanding a line of fermentation tools or making more accessories to include making other things like butter or cheese?
Will they make a white Kefirko?
If they make their goal, what will be the first stretch goal that they will add?
What are the options for supporting the Kickstarter and the recipe book that comes with it with 30+ recipes
LINKS FOR TODAY'S SHOW:
I'd love to hear your thoughts on today's show so be sure to comment below or if you have an idea for the show, email me at paul at fermentationpodcast.com or just click on the Contact button on top of this page and fill out the form. I look forward to hearing from you!