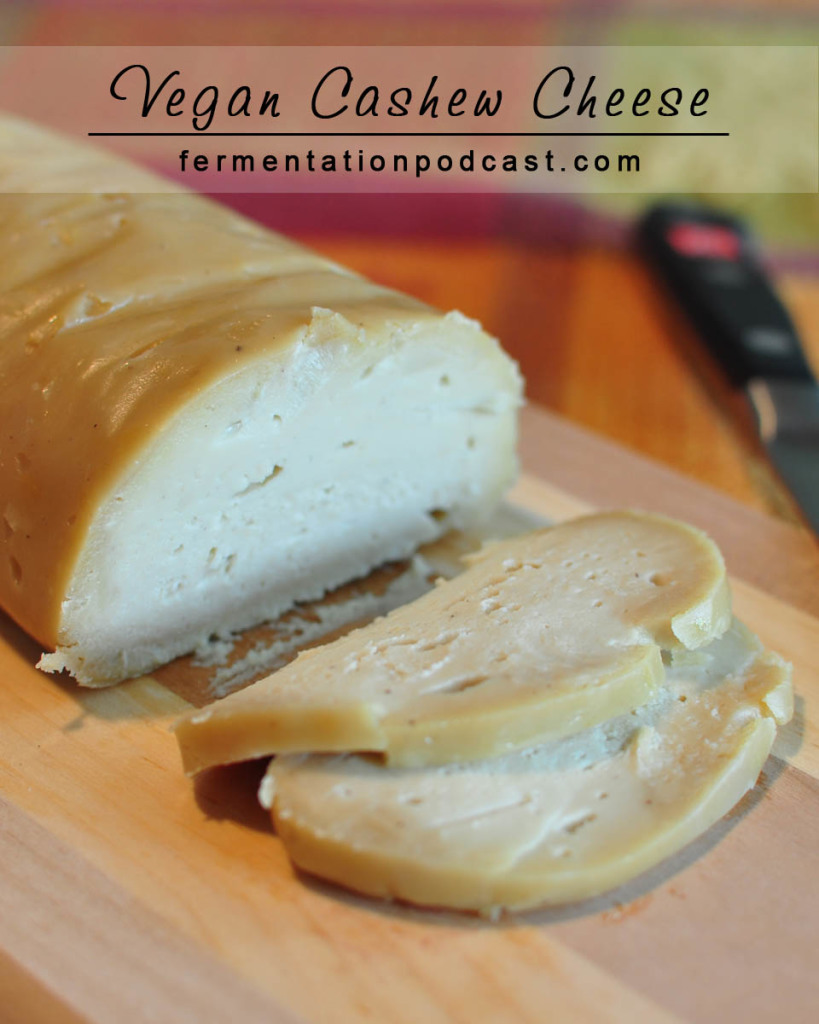 How would you like an amazingly flavorful, slightly funky, fermented cheese recipe made of cashews that also happens to be vegan? What if I also said that with time, this would be a cheese you could slice like artisan cheese or grate like Parmesan?
I wasn't sure what exactly I was making when I started this new adventure but I had an idea that this technique perfected by Miyoko Schinner of the cookbook Artisan Vegan Cheese would end up being very interesting.
A few posts back when I had given out the rejuvelac recipe, what I was actually doing is making the precursor to what would become a nice, flavorful, non-dairy cheese log.  The secret to the funkiness lies in the rejuvelac (sprouted grain drink) which ferments the blended cashews into a tangy ball or log (however you'd like to shape it) of goodness.
This fermented cashew cheese can be used in several different ways. It starts off as what could be considered a cheese dip, then moves on to a slightly more solid state but with a center that's soft like a brie, and then finally with enough time turns into a solid mass very reminiscent of a cheese log or a cheese wheel if you desire to shape it that way.
I brought this to a family gathering, set it out on a wood platter with a knife, and surprisingly it took the place of a traditional gourmet cheese very well being served on bread or crackers. The kids weren't so sure about it but most people who tried it found it very good with that deep cheesy flavor.
I could definitely imagine making more interesting flavors with this basic vegan cheese recipe like maybe some of the following other ingredients:
chopping up some of my lacto-fermented hot peppers and tossing them in for a pepper jack
chopped sun-dried tomatoes and herbs
minced garlic
olives
miso paste
onions
other chopped nuts like walnuts
chopped dried fruit like apricots or cherries
citrus rinds
cacao nibs
Herbs or spices that you could add to this recipe could maybe include:
Italian herbs like oregano, basil, or thyme
dill could add an interesting zing to a fermented cheese the way it does with pickles
parsley
chives
rosemary
paprika
cumin
cracked black pepper
crushed red pepper
Other interesting ideas to change the way this cheese behaves on the tastebuds could be:
liquid smoke to make a smoky cheese
for more of a presentation, you could roll the cheese log or cheese balls in herbs, cracked pepper, or sliced nuts like almonds or seeds
fermenting the cheese with sauerkraut juice or another brine instead of rejuvelac
fermenting the cheese with yogurt instead of rejuvelac
trying rejuvelac recipes made with several different types of grains
apple cider vinegar
Dijon mustard
carrots for color
turmeric for color
coconut oil for a different mouthfeel
trying changing the cheese base of cashews to almonds to experiment with different bases
Inspiration for other ideas could come from this post on Buzzfeed that had inspired me to look into vegan cheeses, 14 Vegan Cheeses That Will Make You Forget About The Real Thing. The pictures in there is what will really get you going among so many others that you can find on Pinterest, but hopefully this will get you started!
Basic Fermented Cashew Cheese
Makes 1 small log or several cheese balls
I consider this a basic cheese recipe made from cashews and fermented with rejuvelac (sprouted grain beverage) that could be altered and added to with any number of ingredients to make it how you'd like. Serve with crackers or bread in the same way you'd serve a gourmet cheese at a party, and for more presentation, roll in herbs or cracked pepper.
Equipment:
Blender
Ceramic/glass container or bowl
Ingredients:
2 cups cashews, soaked 30 minutes or so
1/4 cup rejuvelac (wheat, rye, millet, quinoa, barley, etc.) *rye makes the best tasting
1 tsp. sea salt
1 T. nutritional yeast
1 tsp. lemon juice
Soak cashews for 30 minutes or so and they'll soften up a bit for a creamier blend.
Blend soaked cashews, rejuvelac, and salt to a paste (a Vitamix makes this a breeze) and scoop into your container.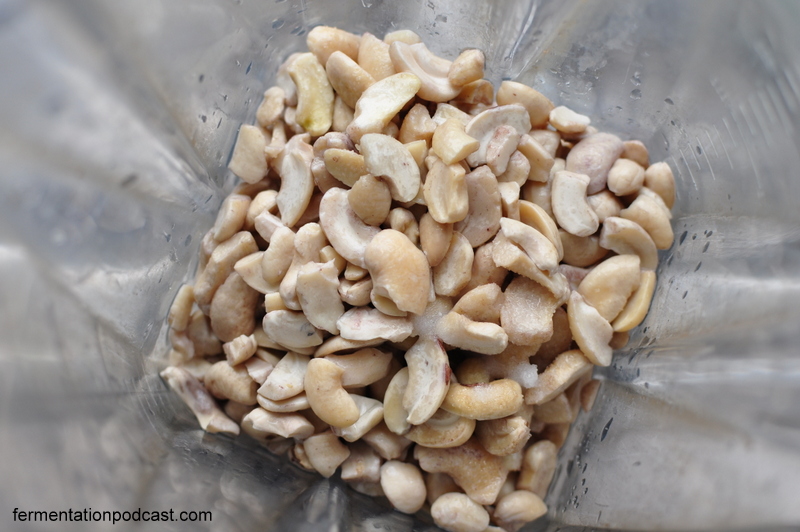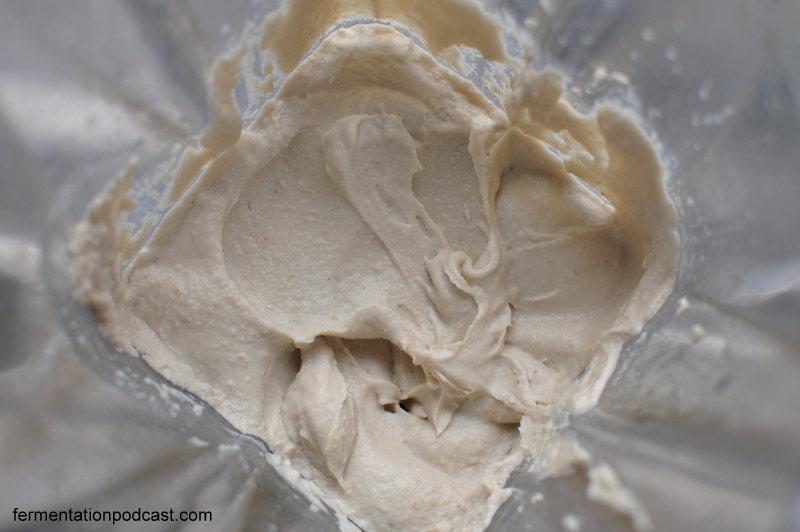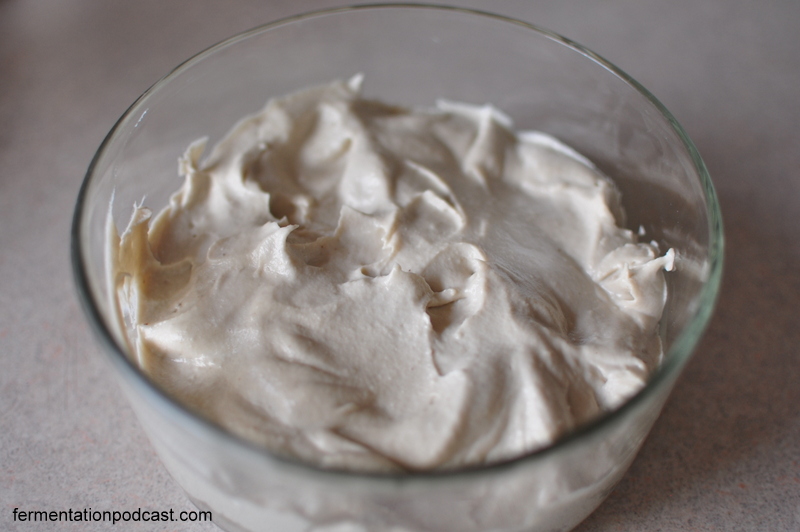 Cover container and let sit at room temperature for 1-2 days depending on how tangy you like it. Taste to check. The top will crust and become hard.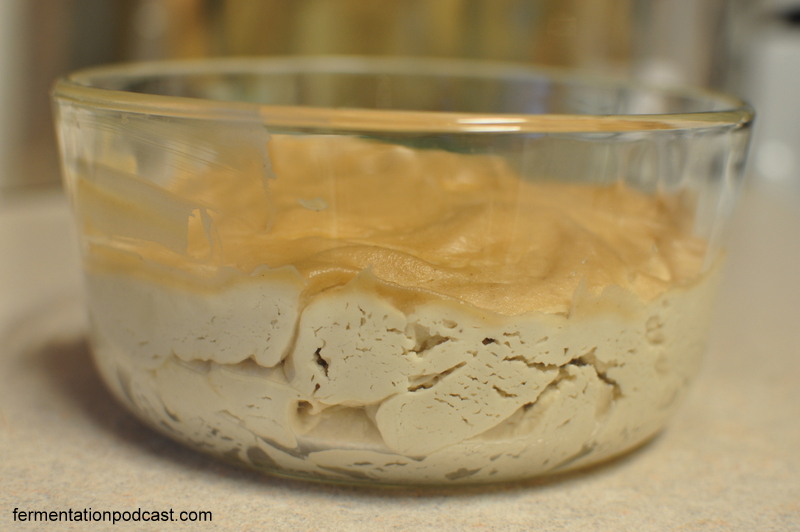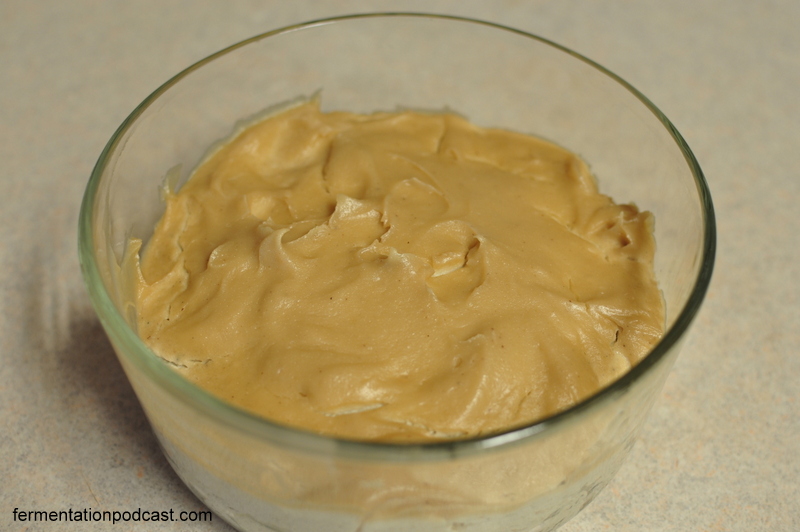 Stir in nutritional yeast and lemon juice and combine completely.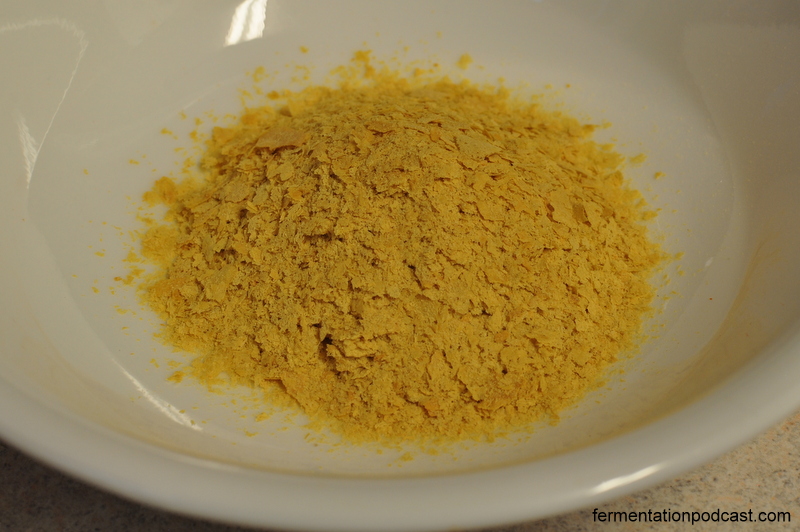 If you want a dip, you're done or you can let it ferment longer to get tangier.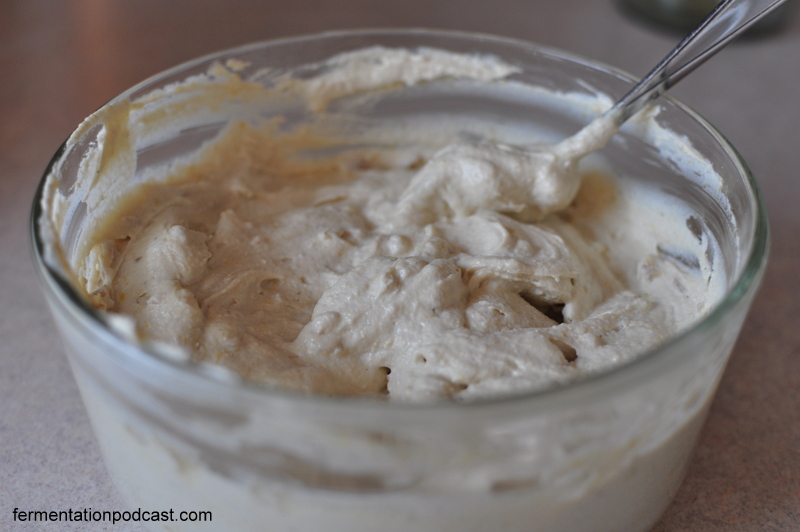 If a cheese log or cheese balls are desired, spoon into a large square of wax paper, fold over the edges, and twist off the ends to close it up and form into a log. This is a little tricky so don't feel bad if it's not perfect.

Store in the refrigerator to set for 1-2 weeks. After about 1 week it will have a slightly soft center and tricky to slice. After 2 weeks it should become more solid and much easier to slice. If you let it set longer, you could probably grate it like Parmesan.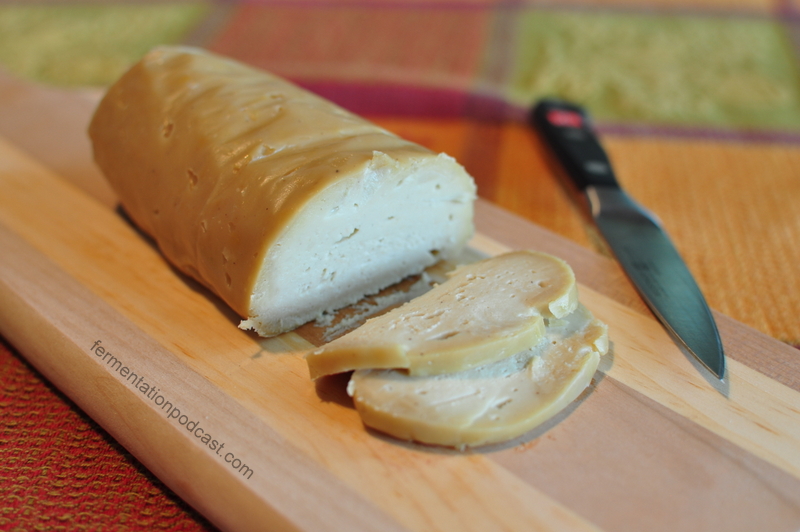 Serve with bread, crackers, or alone for a tasting!